Panama
A country of Central America located on the Isthmus of Panama, the narrow bridge of land that connects North and South America. Embracing the isthmus and more than 1,600 islands off its Atlantic and Pacific coasts, the tropical nation is renowned as the site of the Panama Canal, which cuts through its midsection. It is equally well known for its natural beauty, for its diverse plant and animal life, including hundreds of bird and tree species, and for its vibrant music and culture.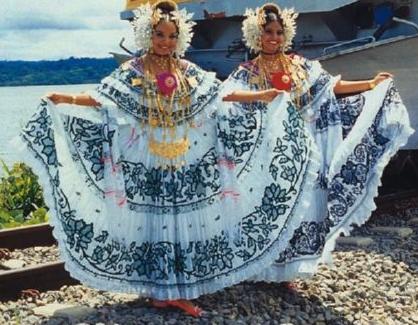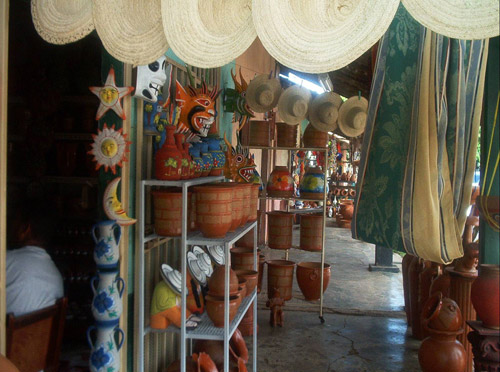 Area:
Population:
Capital:
Head of State and Government:

75,040 sq km (28,973 sq mi)
(2007) 3,343,0001
Panama City
Martin Torrijos

Panama enjoys a lively mix of cultural influences, expressed in the country's cuisine, artwork, music, and literature. Its capital, Panama City, is located on the Pacific coast just east of the canal. A cosmopolitan city where skyscrapers tower above whitewashed bungalows, it enjoys a handsome setting and a growing importance as a commercial and financial services centre for the region. However, its economic progress has been hampered periodically by environmental problems and political turmoil.


Panama City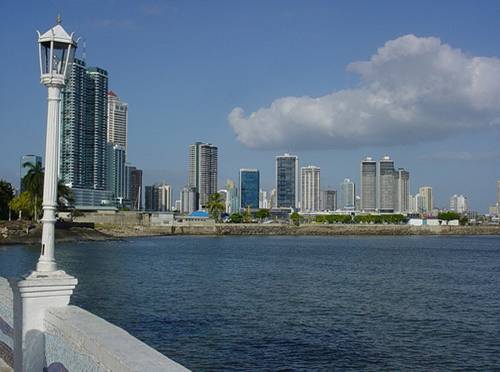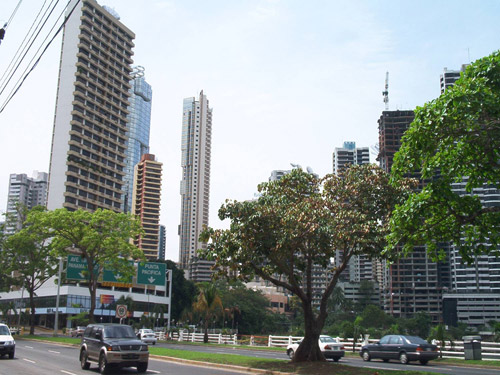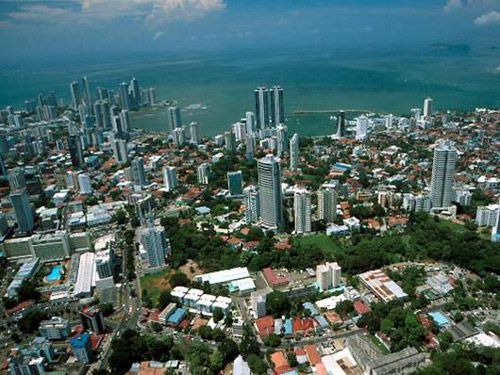 Panama is bounded to the north by the Caribbean Sea (an extension of the Atlantic Ocean) and to the south by the Pacific Ocean. It has an elongated S shape, with its Caribbean coastline stretching some 800 miles (1,290 km) and the Pacific coast some 1,060 miles (1,700 km); however, a line drawn from the Costa Rican frontier in the west to the Colombian border in the east would extend only 480 miles (770 km). The shortest distance across the isthmus is 31 miles (50 km), from the mouth of the Nergalá (Necategua) River, which flows into the Gulf of San Blas on the Caribbean shore, to the mouth of the Chepo River on the Pacific coast.

A central spine of mountain ranges extends almost the entire length of Panama, dividing the country into Atlantic and Pacific facing slopes. The two principal ranges, the Tabasará Mountains (Cordillera Central) in the west and the Cordillera de San Blas in the east, are separated near the centre of the country by a saddle of lower land. This depression (the Panama Canal site) divides the country again - roughly into western and eastern halves. Of the four quadrants thus formed, the southwestern has the largest number of settlements; however, the environs of the canal account for most of Panama's population and commerce. The country's highest peak is an inactive volcano, Barú (Chiriquí), which reaches an elevation of 11,401 feet (3,475 metres).



This is a great site for information regarding the Panama Canal. It covers everything about the canal: from the history of the construction to current operations and costs. It has fabulous information and pictures, including pictures taken during the construction of the canal.
Animals, Plants and Wild Life in Panama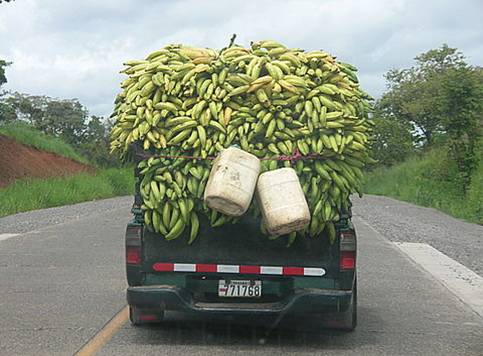 Bananas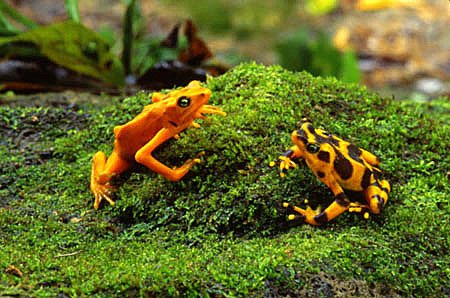 Golden frogs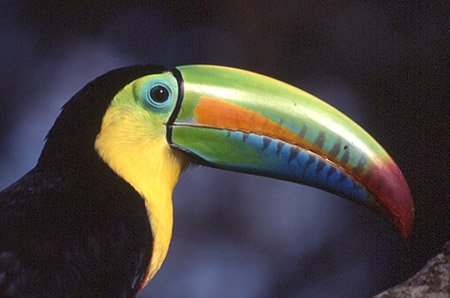 Tucan bird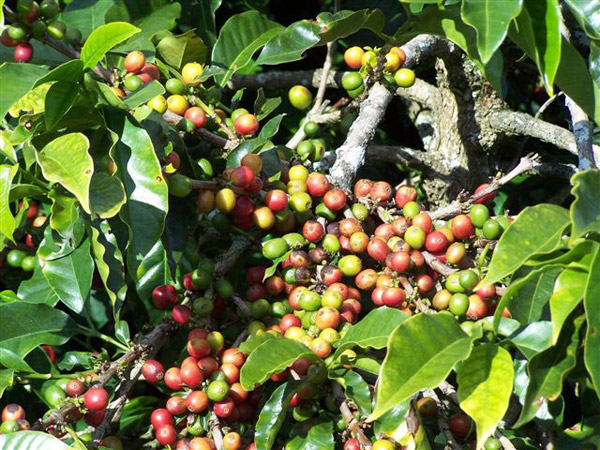 Coffee Beans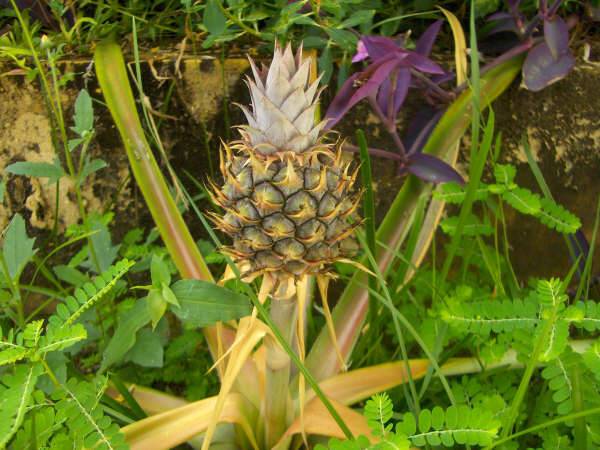 Pineapple plant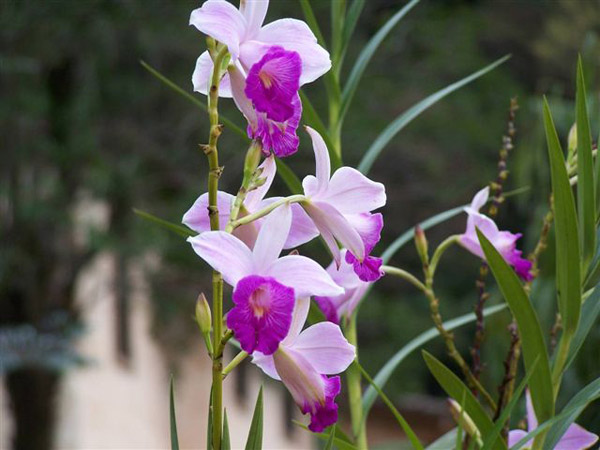 Orchids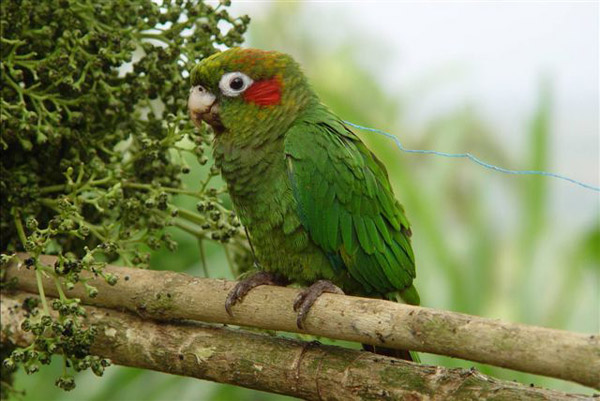 Parrot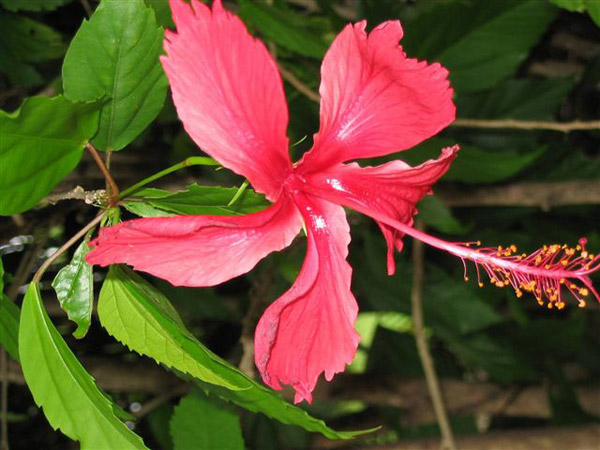 Hibiscus